Advertenties
Advertenties
Prikbord
The offspring
The Offspring is a popular American punk rock band from Orange County, California that was originally formed in 1984. The band now consists of vocalist and rhythm guitarist Dexter Holland, lead guitarist Kevin 'Noodles' Wasserman, bassist Greg Kriesel (known as Greg K), and Atom Willard on drums. They have sold over 32 million albums worldwide.
Green day
Green Day is a musical trio from California, consisting of Billie Joe Armstrong (acoustic & electric guitar, lead vocals), Mike Dirnt (bass guitar, backing vocals) and Trť Cool (drums, backing vocals). Green Day is widely credited, along with fellow California bands The Offspring and Rancid, with reviving mainstream interest in and popularizing punk rock in the United States during the mid 1990s.[1][2] Their success has influenced prominent pop punk revival bands like Sum 41, Good Charlotte, and blink-182.[2]
Metallica
Metallica is an American heavy metal band, formed in October 1981. With 57 million albums sold in the United States (RIAA Total Sales) and over 35 million albums sold outside the U.S. [1] [2], the band has sold just over 90 million albums, making them one of the most commercially successful heavy metal acts in history. Metallica are currently 18th on the RIAA's list of top selling acts in the United States.
NOFX
NOFX is a punk band from California. They were formed in Los Angeles in 1983 by high school-aged "Fat Mike" (real name Mike Burkett), Erik Sandin and Eric Melvin. Described as "crowned veterans of the punk rock" and "original, entertaining, comedic, in your face, and unapologetic,"[1], NOFX is one of the oldest and most prolific[2] punk rock bands today.
Keane
Keane are an English piano rock and soft ballads band from Battle, East Sussex. Keane are well-known for not using guitars in their music, unlike most modern rock artists[1] Keane has a particular style of music (piano rock) that many have compared to Coldplay, who were friends with Keane at School.
Jimmy eat world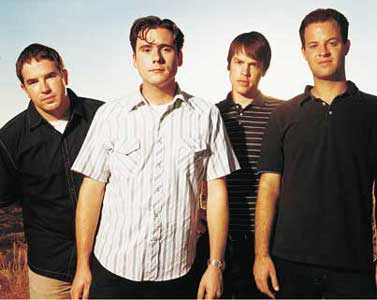 Jimmy Eat World was formed in Mesa, Arizona in 1993. Singer/guitarist Jim Adkins and drummer Zach Lind, who had been friends since kindergarten, joined with guitarist Tom Linton and bass player Mitch Porter to try their hand at music. In its early years, the band emulated the style of its punk-rock influences, with Linton serving as the band's primary singer. Within the span of a couple of years, the band recorded and released three singles and a full-length on local label Wooden Blue Records. The band's name came from a crayon drawing made after an incident between Linton's younger brothers, Jim and Ed. After getting roughed up by Jim, Ed retreated to his bedroom. There, Ed drew a picture of Jim shoving the Earth into his mouth, with the picture bearing the caption "Jimmy eat world".
musicbands info
info over musicbands: dit is een site speciaal gemaakt zodat je de teksten(lyrics), liedjes(songs), biografieŽn(bio), officiŽle sites en zelfs de labelsites(label) van veel verschillende bands gemakkelijk kan vinden op een pagina. Er zijn hier al een handvol bands maar er komen er nog veel meer dus kom af en toe nog eens kijken.
Zoeken
Sociale media
Tijd
Mailinglist
Ja, houd mij op de hoogte!
Het Weer
Top SMS Logo's
Top Ringtones
Film Nieuws
Suggestie?
Heb je een link suggestie voor deze site of wil je dat jouw link ook op deze site komt? Stuur een
e-mail
.
Zoeken
Regenradar
The red hot chili peppers
Red Hot Chili Peppers are a California-based rock band, formed in Los Angeles in 1983. Even though they have experienced numerous line-up changes and personal problems, the band has successfully created a sound that combines elements of funk, punk, rap, pop rock, psychedelic rock and heavy metal. The Red Hot Chili Peppers have maintained commercial and critical success ever since their breakthrough full-length Blood Sugar Sex Magik was released in 1991.
Good charlotte
Good Charlotte is a pop punk revival band from Waldorf, Maryland that formed in 1996. They took the name 'Good Charlotte' from a children's book: Good Charlotte: The Girls Of Good Day Orphanage by Carol Beach York. The band maintains that there is no significance to the name Good Charlotte, and have claimed on many ocassions that they now hate the name. They have released 3 albums, most notably 2002's multiplatinum seller The Young and the Hopeless, which spawned the chart topping singles, "Lifestyles of the Rich and Famous," "The Anthem," and "Girls and Boys.
Coldplay
Coldplay are a post-Britpop/alternative rock band from London, England known for their rock melodies and introspective lyrics. The band currently consists of: Chris Martin: lead vocals, piano/keyboard, guitar Jon Buckland: guitar, harmonica, backing vocals Will Champion: drums/percussion, piano, backing vocals, guitar. Guy Berryman: bass guitar, synthesizer, harmonica, backing vocals
Hooverphonic
Hooverphonic is a Belgian rock/pop group formed in 1996. Though early on categorized as a trip hop group, they quickly expanded their sound to the point where they could no longer be pigeonholed into one genre. The band originally called themselves Hoover, but later changed their name to Hooverphonic after discovering other groups were already using the Hoover name.
Muse
Muse is an English progressive rock band formed while at Teignmouth Community College in Teignmouth, Devon in 1992. Their idiosyncratic style is a baroque blend of progressive rock, heavy metal, electronica and classical music. The band is famed for its energetic "wall of sound" live performances (winning numerous Best Live Act awards) and frontman Matthew Bellamy's eccentric interests in global conspiracy, extraterrestrial life, theology and the apocalypse. Muse consists of Matthew Bellamy, Dominic Howard, and Chris Wolstenholme, and they have sold over 7 million albums worldwide. As of the release of their fourth album, Morgan Nicholls assists the band during live performances, providing additional keyboards, samples and backing vocals. He previously played bass in a few live performances due to Wolstenholme getting injured.